Read all instructions carefully
Apply through DHE Portal:
1. The Second Year and Third Year students have to login into the IAIMS portal(https://dhegoaerp.unifyed.com/DHE_GOA/logincheck) using their credentials on the link.If the colleges have provided the PR numbers to the students, then he/she can login using PR numbers as login credentials.
2. After login, the students have to click on:
Student Registration-> 2Y/3Y registration -> Student Self Registration.
3. Most of the details of the student will be pre-filled and displayed on the form.
4. The students will apply for the promotion of the degree course for the subsequent year.
5. The student can update his/her photo and signature.
6. Before submitting the application form, ensure that all the information are updated.
7. The application process will be complete from the student's end, after submitting the application form.
8. The students will be able to download the application form after the details are verified and admitted by the admission committee on the portal.
9. The students will get an option in their profile to Upload the Payment Receipt on DHE Portal after paying the fees through the College Portal.
10. The student's admission will be confirmed and promoted only after the completion of the fee payment and uploading the payment receipt as instructed above.
11. After mapping the subject/paper combination by the college admin, the student will be able to view the allotted subjects in their DHE profile.
Fee Payment through College Portal:
1. Login to the Chowgule College Portal through OTP validation process
2. Check your fee details and payable amount.
3. Select payment option like – ONLINE (UPI, QRCODE, Net Banking, Credit Card, Debit card ) OR OFFLINE (Credit Card/Debit Card Swipe, QR Code Scan (provided at the college counter), DD, NEFT)
4. If you select ONLINE option please follow the below step:-
a. Make the online transaction when Internet speed or Mobile phone signal strength is good.
b. If the browser is showing the following screen, please click on the [send anyway] button. Otherwise the system won't be able to update the payment status.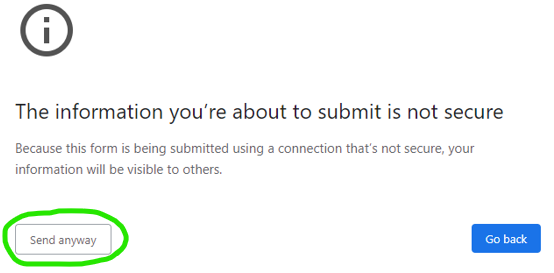 c. Please don't make payment again, once the amount has been deducted from your account.
Kindly send a screenshot of the Successful Transaction along with the Transaction / Reference No. to the Accounts Department at accounts@chowgules.ac.in or you can call on 0832 2722222 and connect to Accounts.
d. Complete the online transaction within 10 minutes.
5. For both offline and online payment, visit the College Accounts department.
6. You will be provided a hard copy of the payment receipt, duly signed and stamped by the Cashier, after showing the transaction detail or deduction screenshot at Accounts Department.
7. Once you get the fee payment receipt, scan and upload on the DHE Portal as mentioned above for confirmation and promotion to SY/TY.